In an age of
data
privacy, customer choice, and technological disruption, what does the future hold for
lead generation
?
These and other pressing questions will be debated at LeadsCon Las Vegas in the opening session: The State of the Industry: Surveying Customer Acquisition.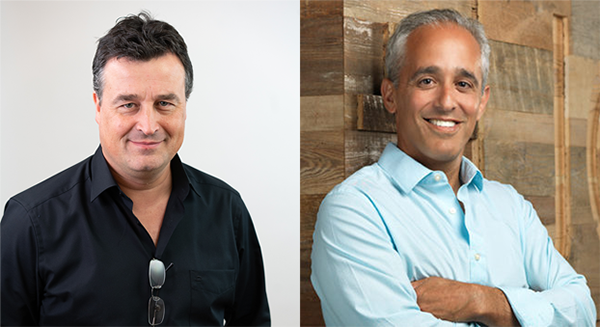 As a preview, PX CEO Frans van Hulle and Jornaya CEO Ross Shanken sat down to explore lead buying and selling, trends, values, and customer experience.
Q: Tell us about the session and what you're looking forward to discussing in Las Vegas?
Ross: We're entering an era where brands recognize the power of positive customer experience and will utilize data to engage with customers most intelligently: right person, right message, right time. We're seeing many lead generators are evolving into "customer acquisition partners" for brands by leveraging the latest technologies and data available. Every year, LeadsCon showcases the hottest trends and latest technology with some of the foremost leaders in this space. I'm looking forward to discussing leading strategies to build trust, personalization, and engagement that will carry us into the next generation of marketing; I'm confident we'll walk away better equipped to bring greater value to our customers.
Frans: Based on what we hear from our customers, we believe the industry is at an inflection point with a tremendous opportunity to fundamentally transform the way business is conducted. I am also excited to share with the audience some of the insights we have gathered from our State of the Industry Survey. It was a great exercise to measure the pain points of the industry and identify some benchmarks for us to gauge the effectiveness of new technology entering the market to see if it's working. We have an exciting session planned and hopefully attendees will walk away with clear insights into how they can grow their business.
Q: What are some of the trends (or shifts) you see affecting how brands can acquire customers and how performance marketers can best help them?
Frans: As the industry adopts technology to gain better transparency into the process, we see the balance of power may be shifting, at least in the short term, more towards the marketer and away from the publisher. There are so many tools now available to marketers that they now expect more. They want greater visibility into the sales funnel. They expect to justify their budgets and pinpoint what's working; they want to shift their spend in real time to improve their ROI. In the end, our goal should be to provide marketers with greater financial control over their customer acquisition campaigns, so they benefit from this new level of transparency.
Ross: As the data economy and technology continue to evolve, our corporate models must evolve as well. Lead generators are sharing more data and insights than ever before, allowing their brand partners and the customers themselves to benefit by leveraging behavioral insights, driving greater value for brands and their customers. Across the Adtech and MarTech landscapes, this evolution is in full force, and it's happening in lead gen. We all have the opportunity to ensure an evolution from "lead acquisition" to "customer acquisition" happens in the right way—with trust, transparency and relevancy for consumers, lead generators, and brands.
Q: What values are critical to the success of the lead generation marketplace?
Ross: I've mentioned trust and transparency a few times already so you might sense the theme. We always promote the benefits of starting with the voice of the customer and adhering to the "golden rule of data," which means treating customer data like you would want your own data treated—ultimately to create meaningful customer experiences. The result is increased trust that builds between you and the customer.
Frans: We strive to help our customers address and succeed in four areas that we believe are crucial to customer acquisition campaigns. These four pillars serve as the foundation for our business and should act as guiding principles for all marketers. In every product we launch or service that we offer, we try to help our clients reach new levels of success in these areas:
Compliance: Reduce the complexity that exists to ensure any campaign meets and exceeds compliance standards.
Transparency: Provide marketers with much clearer visibility into where their leads come from and how they traverse the sales funnel.
Control: Give buyers greater control over their campaigns, with the insights and tools to make real-time changes.
Results: To actually generate more customers!
As an industry, we should ask ourselves if we are doing enough to improve in these areas.
Q: What role does data play in customer experience?
Frans: The adoption of technology has introduced a whole new data set. It will allow for greater insight into performance and ultimately, results. With more data, however, comes greater complexity and if marketers don't know how to interpret the data, and make informed business decisions, it has less value. Understanding the story behind data is what will drive the industry to new levels of efficiency and greater performance.
Ross: The days of "spray and pray" marketing are over. Customers have the power to make smart decisions choosing to engage with companies when and how they want, and will not engage with companies who don't create relevant and meaningful experiences. So when I think about the role that data plays in the customer experience, I think of the phrase made popular in The Economist: The world's most valuable resource is no longer oil, but data. With the right data (and the right technology to support it), marketers know when and how to drive the most effective engagements with the customer. When this happens, brands, their performance marketing partners, and customers all win.

Don't miss the session:
LEADSCON LAS VEGAS | TUESDAY | MARCH 5, 2019
9:05 AM – 9:55 AM | Room: Grand Ballroom AF
The State of the Industry: Surveying Customer Acquisition Today
Presented By: Frans van Hulle, CEO and co-Founder, PX, Inc.
Panel led by: Bas Offers, COO and Co-Founder, PX, Inc.
Participants: Ross Shanken, Founder & CEO, Jornaya, Joe Orr, Executive VP Insurance, ClearLink, and Richard Hill, CMO, Defenders, Inc.



There's no better way to improve your customer acquisition.