Branded Flows
Connect consumers with your brand in a smart way, and they are 10x more likely to convert into customers. Branded flows put your brand at the front center which can build trust and improve your reach.
Customer inquiries direct to your brand.
Branded flows are brand-tailored landing pages that match your brand's look and feel, and collect lead information using the best-in-class flows and data validation to maximize intent and performance outcomes. Branded flows directly collect lead information from multiple traffic channels, and then leverage the power of PX to evaluate, filter, price and route leads efficiently.
Promote your branded flow via multiple channels
Prospects land on your custom branded flow
All leads post through PX to your account
All leads go to "YOU"
the client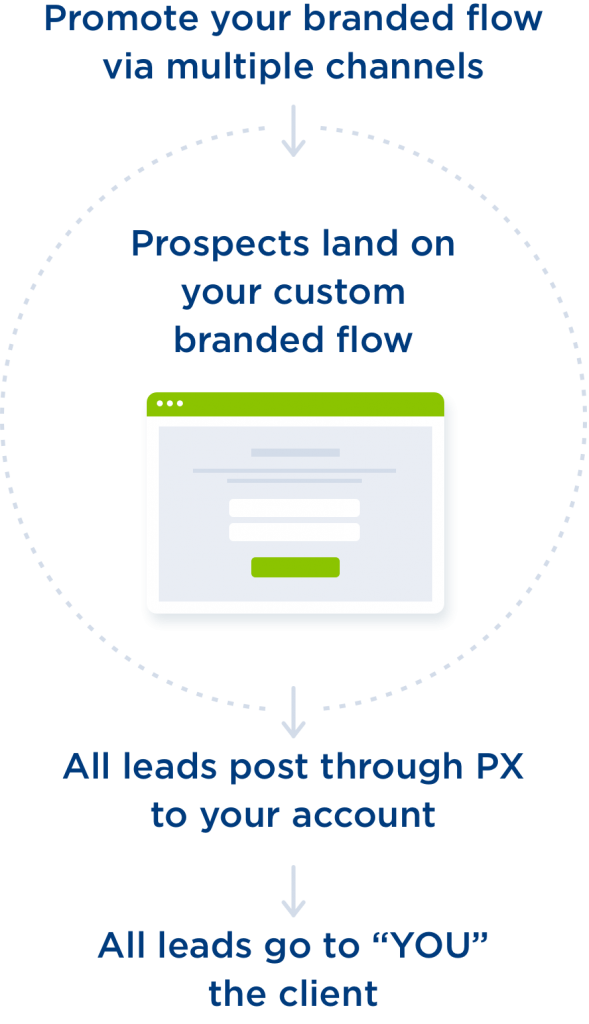 Top advertisers use Branded Flows to convert leads to customers

Why use Branded Flows?
High Intent Consumers
Consumers who inquire directly through branded content are 10x more likely to convert. These custom flows allow you to engage with these consumers early and act on these high value leads effectively, from multiple channels.
Seamless Integration to PX
Your branded leads post directly through the PX platform, alongside your other 3rd party lead sources, into your CRM or lead management system. Filters, payouts and performance are easily tracked and measured.
Improved Conversions
Branded Flows are highly customized and built to improve conversion. In addition, they undergo rigorous A/B testing are mobile responsive flows, and powered with best-in-class lead gen practices to create strong results.
Expanded Reach
Branded Flows can be promoted through many different digital marketing channels and alternative websites, including advertorial sites, partner publisher sites, email marketing, comparison review sites, and more.
Branded Flows Features and Benefits
Custom built and conversion-optimized flows

Optimized for all devices
Dynamic payouts supported
All leads post directly through PX to you
View and seamlessly manage granular source performance