LeadsCon
, the world's largest event for lead-generation professionals, has announced
PX
, Inc. as the headline sponsor for the conference to be held March 30 – April 1, 2020, at The Paris Hotel in Las Vegas.
PX
and
LeadsCon
will again partner on a comprehensive
State of the Industry Report
, a study of
buyers
,
sellers
, and
technology
providers, the issues that drive
customer acquisition
, and how to address them.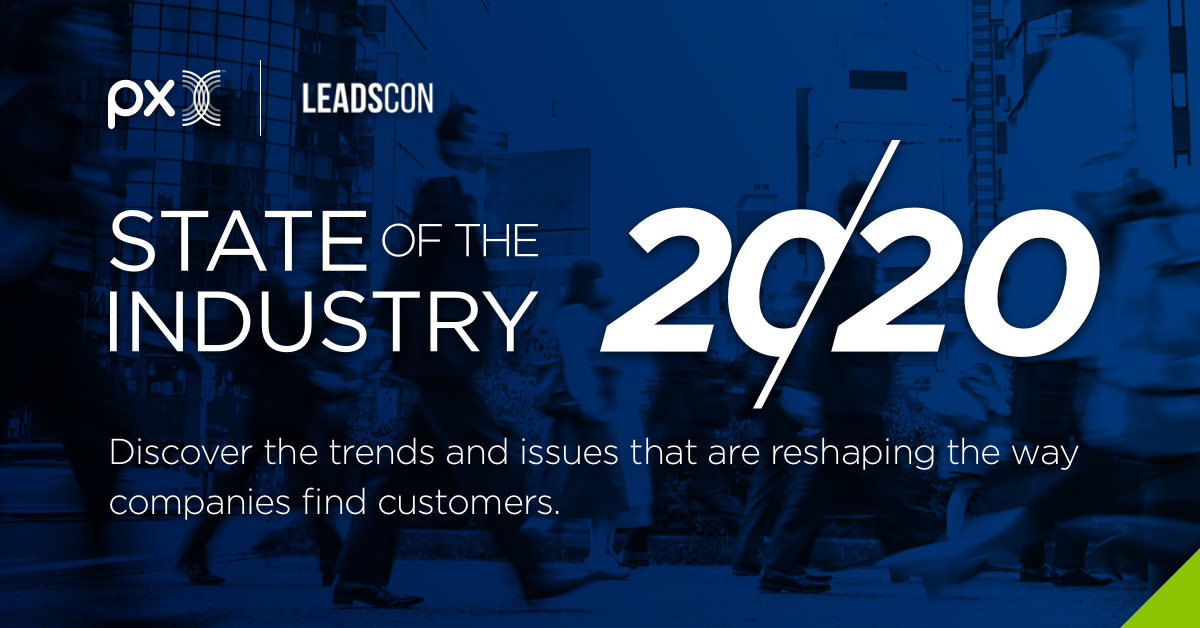 PX is the leading customer acquisition platform that marketers use to buy leads and calls from over 500 different pre-integrated sources. It's known for its marketing technology that empowers buyers with smart programmatic tools that help them optimize their results.
"We're thrilled to partner again with LeadsCon at an event that allows us to engage with thousands of performance marketers in such a meaningful way," said Frans van Hulle, Co-Founder and CEO of PX. "The State of the Industry study will again help shed light on the trends and issues that are reshaping the ways companies find their customers. We are looking forward to LeadsCon 2020, with its new programs, powerful speakers, and unmatched attendee base."
On January 2, PX will launch a comprehensive survey of buyers, sellers, and technology providers in conjunction with LeadsCon to understand the current needs and direction of the performance marketing industry. The results from this survey will be presented live at LeadsCon 2020 on Tuesday, March 31, at 9:00 a.m.
LeadsCon brings together over 2,500 attendees, including lead buyers, agencies, affiliates, aggregators, financial services, marketing services, lead sellers, networks, technology solutions providers, and more. The expert speaking faculty includes keynotes from a Google innovator and an acclaimed author, and 75 industry leaders.
In addition to a conference program that covers social media, predictive analytics, automation, video marketing, SEO, and compliance, LeadsCon 2020 features all-new experiences including Monday workshops and networking for all attendees, The Power Buyers Program, Women of LeadsCon, Titans of Lead Gen and The First-Timers' Program.
"We are excited to partner with PX for the second year in a row on the State of the Industry, and as our headline sponsor. Their support helps us deliver the biggest, boldest, and best conference for the lead generation and performance marketing industry," said Heather O'Connell, Event Director, LeadsCon.
For full LeadsCon event information, sponsorship opportunities, and to register, please visit: leadscon.com/leadsconlv-2020.
ABOUT ACCESS INTELLIGENCE
Access Intelligence is a privately held b-to-b media and information company serving the marketing, media, PR, cable, healthcare management, defense, chemical engineering, satellite, and aviation markets. Leading brands include LeadsCon, PR News, Ad Exchanger, AdMonsters, Cynopsis, Cablefax, Folio, Event Marketer, Chief Marketer, Defense Daily Network, AviationToday, Studio Daily; Power, and Via Satellite. More information: accessintel.com.
ABOUT LEADSCON
With nine years of success behind it, LeadsCon has secured its place as the top event for lead generators and performance marketers. Year after year, the conference delivers more than 2,500 attendees and 200 solutions providers for three days of networking events and content presented by leading experts.
ABOUT PX
PX is the world's first transparent customer acquisition platform, providing a single marketplace for companies to acquire customers from hundreds of vetted and sought-after sources. The company removes the risk from customer acquisition by providing marketers with easy-to-use solutions and tools to grow and efficiently scale their customer base. PX is active in the Financial Services, Insurance, and Home Services industries. Originally established in 2010, PX launched its open marketplace in 2018. Its global headquarters are in New York City, with offices Panama City, Amsterdam, and Odessa, Ukraine.
Originally published in Cision PR Web on November 26, 2019.
There's no better way to improve your customer acquisition.